Club rides take place most weekends, usually on a Sunday with a start time between 8:00am and 9:00am.
The start depends on the route but will usually be at one of Bolton's many free car parks. Rides are either social rides or training rides.
Social Rides
These rides will usually include a café stop. The ride leaders will ensure that no one gets left behind, we always wait for slower rides or have one of the ride leaders cycling at the back with them. The distances range from 20 to 60 miles
Training Rides
These rides are faster paced and may or may not include a café stop. They are often ridden in a group where everyone tries to maintain a similar pace. Distances range from 25 to 80 miles
To join a Ride
Go to Bolton Tri Club on Strava to find out about upcoming rides and sign up. The address is below in the link. Rides are also posted in our facebook group which members can join
Join a ride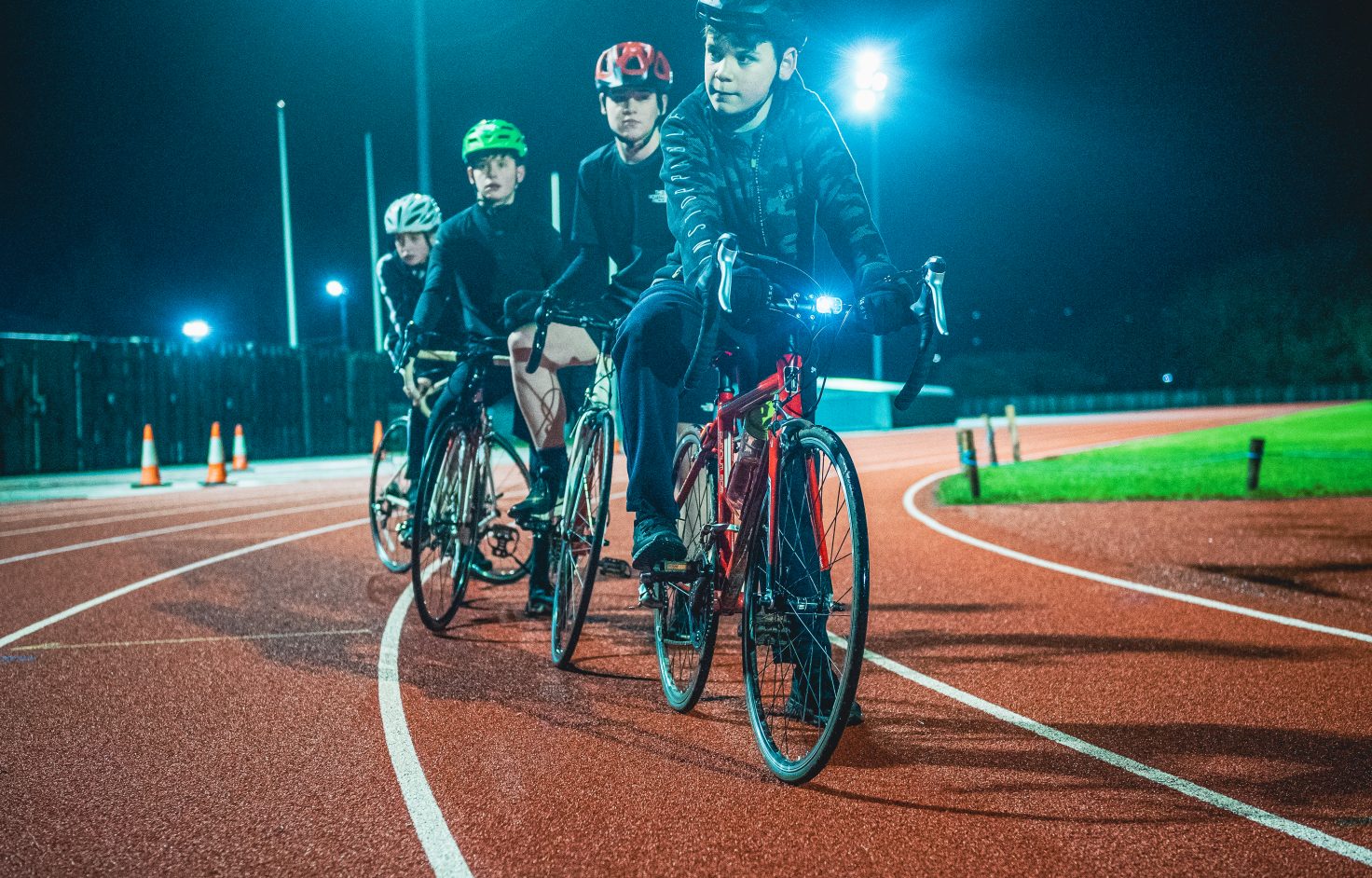 Bike Skills and Confidence Sessions
Once a year we organise a series of sessions at the Leverhulme Athletics Track where members can gain cycling confidence and practice skills needed for triathlons and riding out on the roads. These sessions are for adults and older juniors. Skills we practice include transition skills, drinking on the move, signalling, group riding and drafting, gear selection, bike handling skills, using cleats, using tribars, hill climbing etc.
Training Weekend
In early spring each year the club organises a cycling training weekend in the Yorkshire Dales or Lake District with a choice of rides each day.
Junior Cycling
Please go to the Juniors page.
Booking a session
We now use ClubSpark for session booking which requires a payment on booking. The link is below, each session comes up for booking 7 days in advance.
You need to be a BTC member to book a session and you can join via the bookitzone link on our membership page. If you are interested in joining but want to try a session first please contact chairman@boltontri.com or a committee member and we will book you in for an introductory session. After that you will need to join to attend further sessions.
Club Rides - What to bring.
Obviously a bike!  A road bike or hybrid bike in good working order. And a helmet, that fits properly. No helmet, no ride.
In terms of cycling kit, we strongly encourage a rear light as a minimum throughout the year, this ensures maximum visibility when on busy roads or when poor weather conditions set in.
Bright visible clothing is preferable. A waterproof jacket is advisable in case of wet weather but also to provide an extra layer to keep you warm in case of puncture stops etc.  Emergency rations should you run low on energy, at least one spare inner tube, pump, tyre levers, fully charged mobile phone, basic tools that work on your bike and money for coffee stops.
The lead rider will always carry a basic first aid kit and it's rare that in the event of a puncture or tumble, there isn't someone there to help you get back on the road and home.
Emergency Contact Information, & Health and Safety.
If you're new to the club or joining a ride for the first time, we recommend that you provide an emergency contact number to the lead rider and notify them of any health conditions or disabilities that may be relevant.  Club rides are not coached rides, they are run by members who volunteer to organise them.  They have no responsibility for your safety, equipment, nor are they required to get you home if things go wrong.  However, in the unlikely event that you do have an accident or mechanical issue, as a rule, other riders will rally around to ensure you're not left in the "cold" or in a dangerous position.  Riders should know their own limitations and assess their ability to complete a ride.
Age limits.
The minimum age is 14 and the parents or guardians of anyone under 18 must contact the lead rider to give their permission and to ensure the ride is suitable for them.
Timing
Riders usually arrive 10-15 minutes before the ride commences.  We aim to set off at the allotted time advertised on the ride although we normally allow a few minutes grace should you be running late for any reason.   If you wish to join the ride on route, please let the lead rider know in advance so that a pre-arranged meeting spot can be agreed.
The lead rider will normally advise on the expected return time, however, most rides aim to be back at the start location just after lunch or early afternoon depending on ride length and weather conditions.
Fees
As there are no costs in putting on a ride, there are no fees to sign up.  We do however expect that anyone a ride joining on a regular basis will become a Bolton Tri Club member.
Social Rides
These rides are 'no drop' and average out at a leisurely pace of around 12mph.
Rider ability, fitness and age is diverse. Routes are normally posted on a Wednesday evening at the Bolton Tri Strava "upcoming event" page & Facebook.  There are no requirements to sign on although good practice dictates that you either notify the lead rider directly or click the "I'm going button" on Strava.
Before the ride commences, the lead rider provides a briefing on the route, key junctions or places to stop and wait if you find yourself at the head of the group.  Unlike cycling clubs, we rarely ride as a peloton on social rides. We wait at convenient spots to regroup.   For any new members, we always introduce them to the group and give advice and help on cycling etiquette.
Step out of your comfort zone.
What are you, what do you class yourself as? A runner, a cyclist or a swimmer? Why dont you step out of your comfort zone and try one of our other specialist sports? We are a growing, friendly, fun club which aims to help all our members enjoy swimming, cycling and running. Have you tried these other options?
Beginners, young and old, are catered for alongside more experienced triathletes of all standards. Sessions every day of the week throughout the year with guidance and encouragement from our qualified coaches. Training with others is a good way to get motivated, learn about the sport and make new friends and training partners. If you need to improve or learn front crawl, get used to open-water swimming or find out how to plan your training we can help.