Juniors.
We have a thriving junior section for ages 7 to 16. From age 14 young people can choose to do the adult or junior training sessions. We can help you prepare to do your first triathlon, aquathon or duathlon. We take part in events that are part of the Triathlon England North West Junior Series and we also organise our own club events to give juniors experience and practice the skills they learn at training sessions.
We have a Welfare Officer, Lisa Fry: welfare@boltontri.com who will deal with any concerns about the welfare and safety of children. All our juniors coaches have been DBS checked and have been on the Sports Coach UK Safeguarding and Protecting Children course.
2023 NW Junior Series Link
Swimming Sessions
We have two junior swim sessions in 25m pools. We practice all four strokes front crawl, breaststroke, backstroke and butterfly as this makes it more enjoyable and makes them better all-round swimmers.
Because it is lane swimming using shallow and deep ends juniors should be able to swim 100m continuously using any stroke before they can take part. The only kit that is essential is a pair of well-fitting goggles and a drink but a pair of fins will help them to do swimming drills that will ensure faster progress.
At the Farnworth session on a Saturday we organise swimmers into three ability groups L plates, Improvers and Advanced and swimmers move through the groups as they progress. The Smithills session Thursday evening session is for Improvers and Advanced groups only.
Run/Bike sessions
These are held on the track at Leverhulme Park Leisure Centre. Besides improving fitness we work on improving running technique, bike handling skills and transition skills using fun activities.
The minimum age is 7 and children must be able to ride a bike. Everyone needs to bring a well-fitting helmet, their own bike and a drink. Warm clothing (3 layers on top) and gloves are needed for cycling in winter. We do have some bikes and helmets to lend out at training sessions. We have two age groups 7 to 10 years who train from 7 to 8.10pm and 10 to 15 years who train from 7.30 to 8.45 pm. Each group normally does 30 mins running and 30 minutes cycling as well as some games or warm up activities. At these sessions we also practice transition skills which are important in triathlon.
Email our Welfare Officer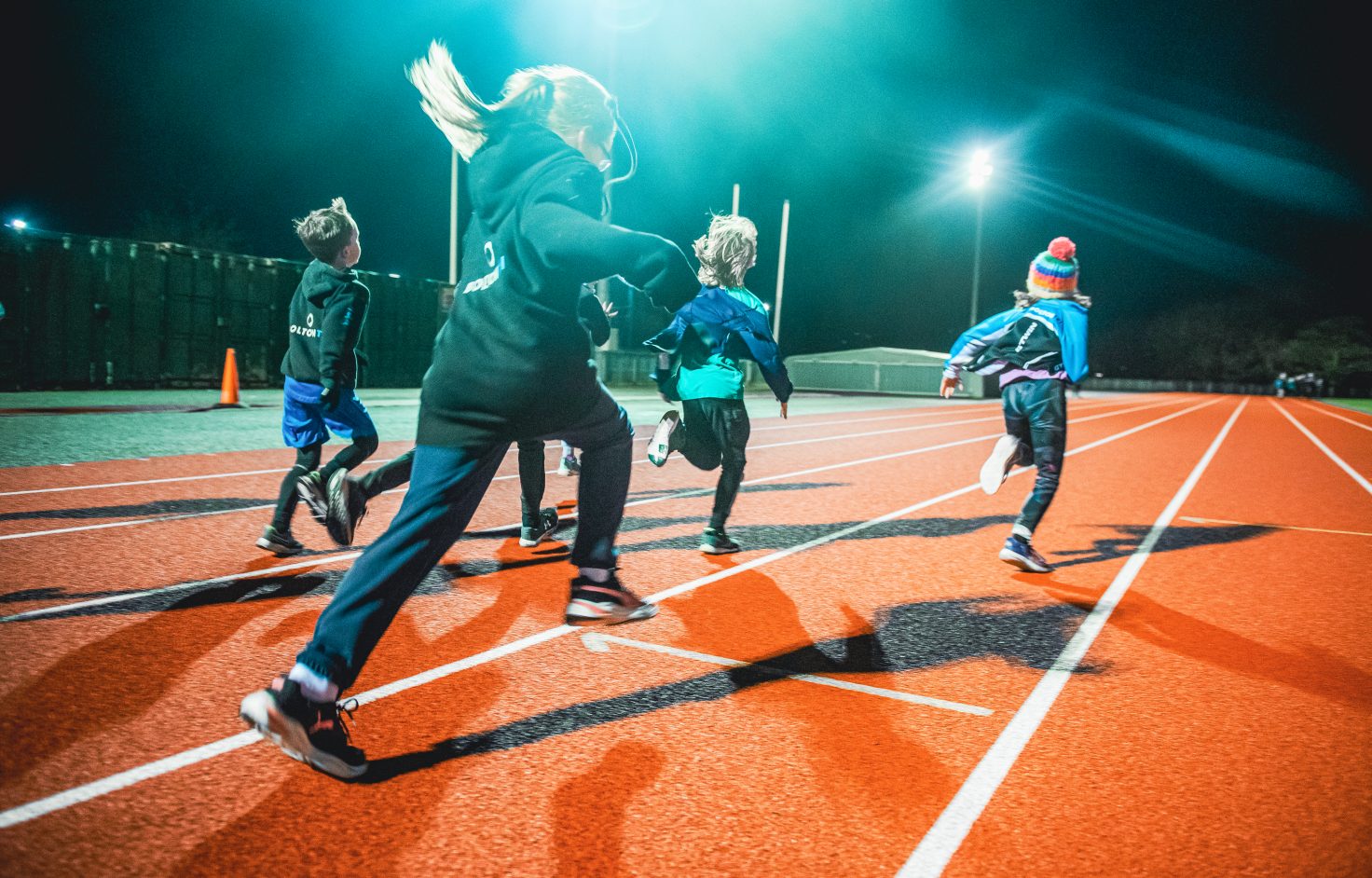 Bikes and Cycling.
With the younger group we focus on learning bike handling skills and in the older group we also introduce racing skills and longer distance riding. Most bikes are suitable except BMX bikes because they don't have gears. Road bikes are mainly used for triathlon but primary school aged children shouldn't be in rush to get a road bike until they have good bike handling skills and they are tall enough. Please speak to a coach for advice before buying a road bike for your child and have a look at our guide on junior bikes.
Sessions
Younger Junior Run/Bike sessions
7 to 10 years.
Mondays (excluding bank holidays)
7:00pm – 8:10pm taking place at Leverhulme Park Track.
Older Juniors Run/Bike Sessions
10 to 15 years.
Mondays (excluding bank holidays)
7:30pm – 8:45pm taking place at Leverhulme Park Track.
Junior Swim Session
All groups.
Saturdays
3:00pm – 4:00pm at Farnworth Leisure Centre
Junior Swim Session
Improvers and Advanced.
Thursdays
7:00pm – 8:15pm at Smithills Sports Centre
Triathlon England NW Junior Series
The events in the series can be seen at British Triathlon site using the link below.
Triathlon England North West Site