Bolton Tri Club Memberships.
The club offers a range of membership packages to suit different family situations and commitment levels. You may try out one session before joining.
12 month membership subscriptions are charged as follows:
If you wish to set up a new direct debit, please click here.
Junior – £15
(17 or less at 31st January 2023, min age 7)
Student – £15
(full time education)
Senior – £35
(18 or over at 1st February 2023)
Family membership – £55
(Max 2 adults & max 4 children living at the same address)
Fees are non refundable and cover the period 1st February to 31st January.
Membership Application Form
Session Fees from 1st June 2023
Session fees are payable at the time of booking through ClubSpark, or on a monthly direct debit. If you wish to set up a new direct debit, please click here.
Seniors
Leverhulme Park Sessions – £3.50
Pool Sessions – £5.50
Juniors
Leverhulme Park Sessions – £3.50
Pool Sessions – £4.00
Monthly or Annual Payment Rates – Train more, save more!
Regular attenders can save considerably by paying for the above sessions by monthly direct debits or by an annual payment, especially if you attend 5 or more sessions a month . This is  available for paid up members. Please contact  treasurer@boltontri.com if you would like to set up a direct debit or make an annual payment.
Pay Monthly Sessions from 1st June 2023
Sessions by monthly direct debits – If you wish to set up a new direct debit, please click here.
Single Junior / Full time student – £20
Single Adult – £28
1 Adult & 1 Child – £42
Small Family – £46
Large Family – £57
Annual Rates
12 months for the price of 11. (non refundable)
Student – A student pass is required for applied discount
Small Family – 2 Adults at the same address or 2 adults & 1 junior or 1 adult plus juniors
Large Family – 2 adults plus 2 children or more than 4 people i.e. one or two adults plus dependants
These rates cover:
Monday session at Leverhulme Park and all pool sessions.
Booking a Session
We now use ClubSpark for session booking which requires a payment on booking. The link is below, each session comes up for booking 7 days in advance.
You need to be a BTC member to book a session and you can join via the bookitzone link on our membership page. If you are interested in joining but want to try a session first please contact chairman@boltontri.com or a committee member and we will book you in for an introductory session. After that you will need to join to attend further sessions.
Book Here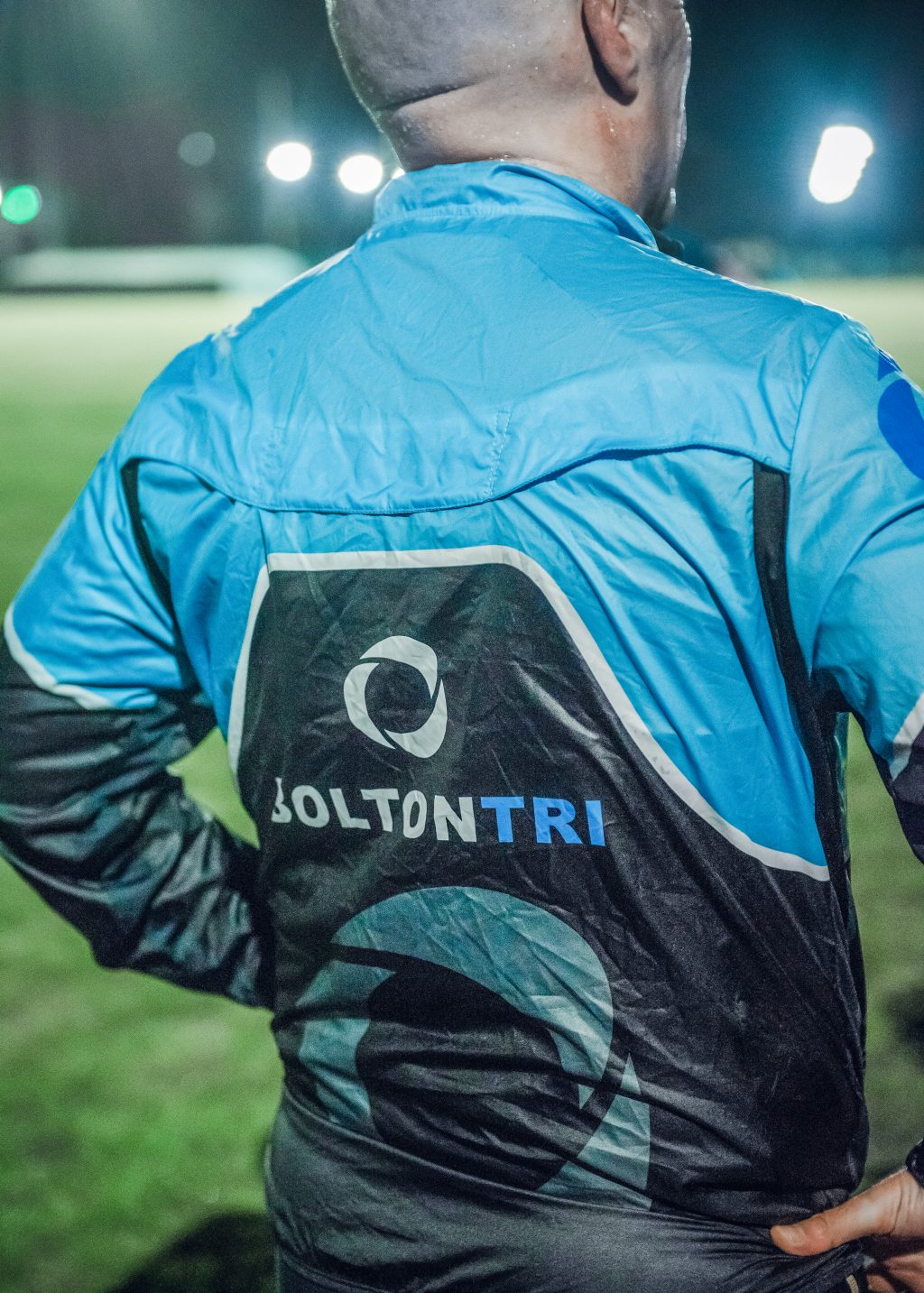 Club kit suppliers.
Halbro, based in Horwich, supply  club t-shirts, running vests, hoodies, shorts, beanies and morfs. You can order direct from our club store on their website. There is a junior store and a senior store. Orders are delivered to your home address within 3 weeks.
Order Here
Club kit suppliers.
APEX Custom clothing are our new supplier of club tri-suits and cycle clothing such as bib shorts, bib tights, cycling shirts, gilets and jackets. They are coming to Leverhulme Park on 24th April 6.30 to 8.30 pm with samples of their range of kit in all sizes so members can try on for size. A teams store will open on their website on the same day and the order window will close on  7th May. Kit will be ready in 4 to 6 weeks, so by 13th June at the latest.
Apex Bolton Tri Team Store
Used kit.
Tri-suits for juniors
Children grow out of clothes quickly and because tri-suits are an expensive item we have a stock of club tri-suits in junior sizes that can be hired by members during the triathlon season.
Tri-suits for adults
We have a small stock of club tri-suits in adult sizes for sale/hire.
BTC Swim Hats
Look the part in BTC swim hat. We have a stock of these. £5 each.
Bike Box and bike bag
We have a solid bike box and a bike bag which members can borrow if they are taking their bike to an event abroad.
Kit officer
Peter Fry is our Kit Officer and can deal with any questions about club kit. He is at most sessions at Leverhulme Park and Farnworth Pool.